€

25.00
TRIGAIDA - ELATE • limited edition vinyl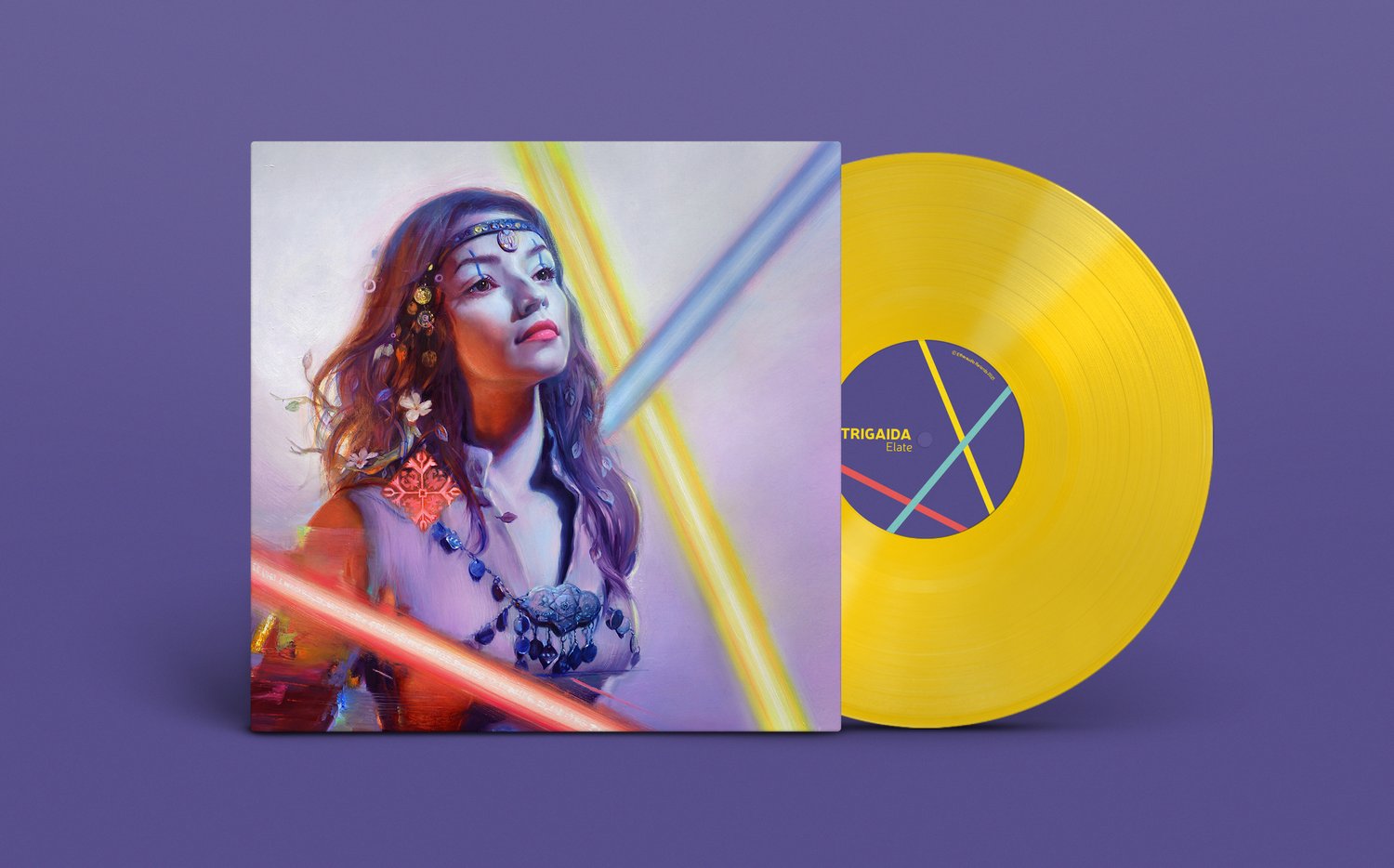 • 12'' yellow vinyl
• 180 grams Audiophile quality
• Matt laminated outer sleeve
• Hand numbered / Limited edition to 300 copies
• Digital download of the album included
• Artwork by Nasimo
Limited Edition Signed Poster
Limited Edition Signed CD
PREVIEW:
TRIGAIDA is the latest musical phenomena to have come out of the small but colorful contemporary electronic scene of Eastern Europe's Bulgaria. The folktronica trio is formed by multi-instrumentalist Georgi Marinov (Horhe), folklore singer Asya Pincheva, and multifaceted electronic producer Ivan Shopov.
ELATE is the debut full-length offering of the project and is a unique blend of traditional Bulgarian folklore and contemporary electronic music, which is also generously sprinkled with influences ranging from contemporary jazz, to world music and neoclassical thanks to the plethora of world-class guest musicians, who were also involved in the album. The artwork of ELATE is based on an oil piece by Bulgarian graffiti pioneer Nasimo.
In ELATE the talented trio is not alone in their journey. In an attempt to expand their musical landscape, by embracing an even wider variety of world music languages, they have invited world-renowned collaborators among which Theodosii Spasov (kaval), Dimitar Bodurov (piano), Akira Uschida (clavichord, saxophone), Maxim Anokhin (programming), Burak Malcok (ney), Ace Vaptsarov (guitar, strings arrangement), Mariya Dimitrova (back vocals), Neyko Bodurov (trumpet), Tayfun Ateş (percussion) and Güldeste Mamaç (violin). Their contributions allowed TRIGAIDA to add even more nuances to their already innovative and exciting musical palette.
TRIGAIDA commissioned the artwork of ELATE to world-acclaimed Bulgarian graffiti artist Nasimo. Active since the early 90s and considered one of the most important graffiti and fine art muralists on the Balkans, Nasimo is a regular collaborator of Ivan Shopov. In his current work, the artist is equally focused on muralism and studio painting, further developing his signature style and vision.
ALBUM CREDITS:
Ivan Shopov: programming
Asya Pincheva: vocals
Georgi Marinov - Horhe: kaba gaida (Bulgarian bagpipe) and didgeridoo
music and arrangements by Trigaida.
lyrics: folklore, except Maichinko - lyrics by Asya Pincheva
special guests:
Theodosii Spassov: kaval in 9 and 10
Dimitar Bodurov: piano in 6 and 10, keys and programming in 5
Akira Uschida: clavichord and saxophone in 8
Maxim Anokhin: programming in 2
Burak Malcok: ney in 3
Ace Vaptsarov: guitar in 8, string arrangement in 6 and 9
Mariya Dimitrova: back vocals in 6 and 8
Güldeste Mamaç: violin in 5 and 6
Neyko Bodurov: trumpet in 5
Tayfun Ateş: percussions in 3
cover artwork - Nasimo
graphic design - Emanuela Belovarski
cover model - Asya Pincheva
recorded at Octave Collective Studio and Etheraudio Studio
mixed and mastered at Etheraudio Studio by Ivan Shopov
produced by Ivan Shopov
words by Angel Simitchiev
released by Etheraudio Records
Supported by National Cultural Fond
Special thanks to everyone that helped us creating this album